ARE YOU ELIGIBLE?
A sewer discount is only available to low-income seniors who meet specific eligibility requirements related to age, income, and home ownership. The eligibility requirements for the CAP are:
65 years of age or older
Own and live in the residence for which they are paying the
MSD sewer bill
Modified Adjusted Gross Income (MAGI) of no more than $36,100 for tax year 2022. MAGI is Ohio Adjusted Gross Income plus any business income that has been deducted in computing the Ohio Adjusted Gross Income (OAGI). This applies to the combined income of the applicant and their spouse
APPLICATION AND ANNUAL RENEWAL
To participate in the program, you will need to submit an application along with required documentation showing proof of age and income.
Once your application has been received, it will be processed. You will receive a letter by mail confirming your eligibility or ineligibility. If eligible, the 25% discount will appear in the "detail section" of your sewer bill that covers the next full billing cycle. This could take 1-2 months, depending on the billing cycle.
Starting in January 2024, MSD will contact you around the anniversary of your enrollment date regarding your CAP eligibility for the following year.
APPEALS PROCESS
If MSD determines that you do not qualify for the CAP, you may appeal the decision by contacting the City of Cincinnati's Office of Administrative Hearings:
Office of Administrative Hearings
805 Central Avenue, Suite 110
Cincinnati, OH 45202
Phone (513) 352-4899
Fax: (513) 352-4898
Email: oah@cincinnati-oh.gov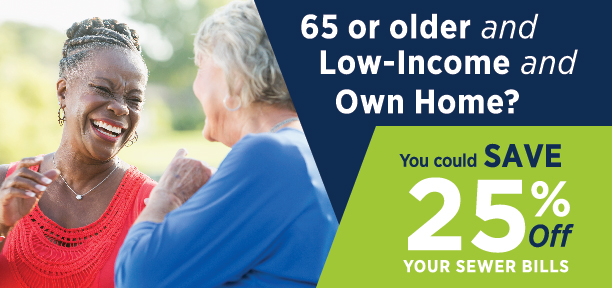 REQUIRED DOCUMENTATION
Proof of Age (please submit one):
Ohio Driver's License
Birth Certificate
Social Security Benefit Verification Letter (if it includes your age)
Proof of Income (please submit one):
Ohio Income Tax Return (previous year)
Social Security Benefit Verification Letter
Other (e.g., 1099R, W-2)